The museum
The museum houses a collection of works reflecting the highlights of Spindler's creative achievements, which have influenced the artistic life of their times and have often been honoured at major international exhibitions.
Items of furniture, marquetry panels, works of decorative art, sculptures and paintings created by Charles and Paul Spindler, together with works produced by their artist friends, bear witness to the essential role they played in the history of the arts.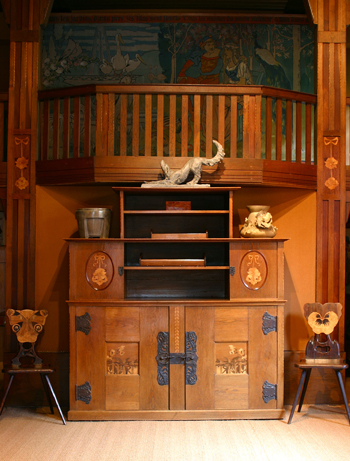 Some pieces from the dining room exhibited by Charles Spindler at the third German Decorative Arts Exhibition in Dresden in 1906 illustrate the rich collaborations undertaken between artists in Saint-Léonard circle. This work as a whole was awarded a medal of honour at the Exhibition, and established the reputation of Alsatian decorative art.
Guided tours are organised for groups of fifteen people or more, by appointment, from Monday to Saturday.
Price: 6 euros per person.