Know-how
The birth of a unique form of artistic marquetry
Originally, marquetry was intended for furniture decoration. Invented in Asia Minor, it developed in Italy in the 15th century, then in France in the 18th century with Boulle, Oeben and Riesener. Alsatian marquetry emerged during the Renaissance period, but its history is connected above all with the cultural renewal of the late 19th century and with one man, Charles Spindler.
Thanks to Art nouveau and the creative paths forged by Gallé and Majorelle at the École de Nancy, Charles Spindler rediscovered marquetry, which had been somewhat neglected in the latter part of the 19th century, and revived this practice as an easel-based art form, in which the artist is a painter rather than a cabinetmaker.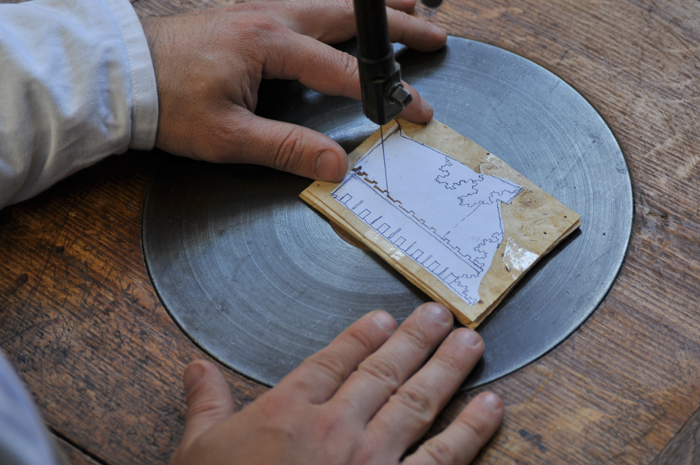 His great originality was to conceive marquetry as a picture in wood, and to adopt a fresh palette by taking inspiration from themes found in his local region, Alsace. This style of picture became regarded as an "Alsatian speciality", continued and renewed by Paul and Jean-Charles Spindler.
Exceptional craftsmanship: the marriage of wood and design
The creation of a piece of marquetry begins above all with a design. The outline must represent a remarkable composition. To successfully transfer onto wood the nuances offered by paint or the effects of watercolour, the craft requires a long apprenticeship and an exceptional knowledge of the material.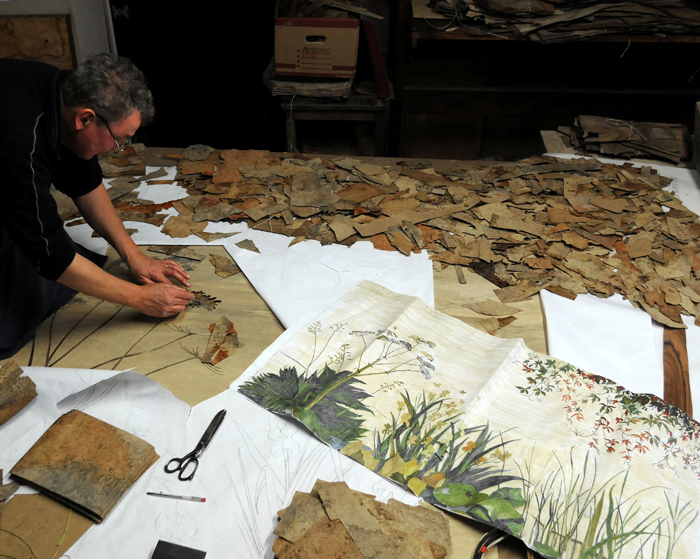 A marquetry panel is composed of a multitude of pieces of wood veneer. The thin strips of veneer come from a number of tree species. The artist has at his disposal an impressive collection of woods, chosen for their nuances and natural colours.
Behind the technical prowess involved in cutting and assembly, lies the secret alchemy of colours and materials which is, along with the stylisation of the project, the artistic part of the procedure.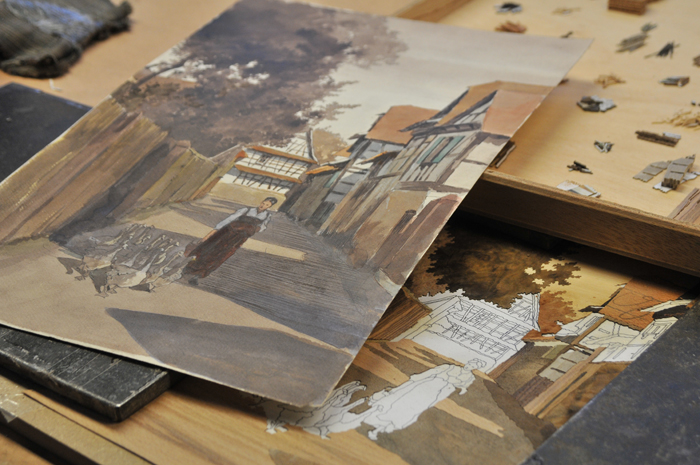 To produce a piece of marquetry, the parts of the design are cut and glued onto carefully selected and planed varieties of wood veneer. Each element in the picture is cut using a saw with an extremely fine blade able to follow the outline of the design with the greatest possible precision. The hundreds of pieces of wood are then juxtaposed and glued to each other. Once assembled, the marquetry is glued to a rigid support and pressed. It is then delicately sanded, the company's signature is affixed, and the picture is waxed or varnished.